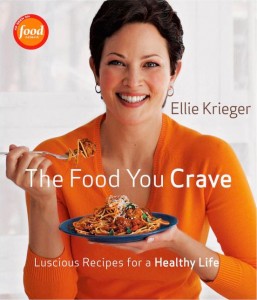 The Food You Crave from Ellie Krieger is a cookbook I've had for years. It was on sale at Half-Priced Books so I snagged it. I had no idea that it would become such a staple in our life. I cook at least two recipes out of it every week. This is especially a good January cookbook when we're all trying to get on the healthy eating train.
Up until I bought this cookbook, I thought most recipes from cookbooks needed a lot of tweaking. I had used lots of Rachael Ray's cookbooks and if I followed her recipes to the t, they usually came out bad. Not so for this book. Krieger does an amazing job constructing very solid recipes. Follow it exactly and usually it will turn out fantastic. Even the worst recipes are not bad, just bland, but I have only run across a few of those (lasanga rollups and stuffed peppers).
Even though our kids have food allergies, we've been able to make substitutions in her recipes without a whole lot of work. However, I haven't tried many of the breakfasts or desserts because I just go to the Allergy Mama for that.
Where this book really shines is the sauces and the salads. I ate salad before I got this cookbook, but it was always the same buffet-type salad with iceberg lettuce and cherry tomatoes and sesame seeds. The salads in this book are amazing. The dressings, perfect. Because of this book, in the summer we eat salads as our entree most days because I don't have to turn on the stove or oven and they are so darn tasty. Even the girls will chow down.
Also, what I appreciated about this book was the little tips she gave. For example: Did you know that when you drain and rinse canned beans it removes more than 40% of the sodium? You can do that for anything canned.
My favorites from this book:
Lemon Chicken and Orzo Soup (subbed out the eggs for cornstarch)
Cornmeal-Crusted Roasted Rataouille Tart (I have no idea how to make this dairy and egg-free, nor would I try, it is the most delicious thing I've ever made. No joke.)
Crab Salad on Crisp Wonton Cups
Grilled Thai Beef Salad (the girls eat this like it's pizza)
Spinach Salad with Warm Bacon Dressing (we cheat and use a little more bacon. Good winter salad.)
All Day Breakfast Salad (Mine and B's fav, better in the summer with good tomatoes)
Salmon Cakes with Ginger-Sesame Sauce (I could drink this sauce – her lemon-mint tzatziki is pretty good, too)
Fish Tacos (really it's the Chipotle Cream that makes them so good)
Her Honey Mustard recipe
After I had this book for a while, I went back to Half-Priced books and bought them outof copies. I've been giving them out as wedding gifts because I love this cookbook that much.
So click on these links and try out her food. Oh, and we'd be happy to come over and help you taste it 🙂